Ambassador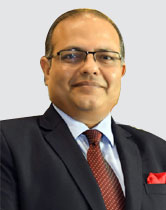 H.E. Mr. Piyush Srivastava
Ambassador of India to the Kingdom of Bahrain
HE Piyush Srivastava joined as Ambassador of India to Bahrain on 28 July 2020. Prior to his current assignment, he was serving as Joint Secretary/ Head of Northern Division at Ministry of External Affairs, New Delhi.
Ambassador Srivastava joined the Indian Foreign Service in 1998. He began his diplomatic career in the Embassy of India, Berlin. Thereafter he served as Second Secretary/ First Secretary at the Indian High Commission in Ghana; and as First Secretary/ Counsellor in charge of Political, Development Cooperation, Press, Information and Culture at Indian Embassy in Bhutan.
Ambassador Srivastava has also served as Counsellor/ Deputy Chief of Mission at Embassy of India, Nepal. During his tenure as Deputy Chief of Mission at Indian Embassy in Kathmandu, he coordinated India's relief and rescue efforts for Nepal following the massive earthquake that struck Nepal in 2015.
At Headquarters, Mr. Piyush Srivastava has worked in divisions dealing with countries in India's neighbourhood and extended neighbourhood. His assignments included Deputy Secretary (Afghanistan/ Iran), Director in Southern Division, and Joint Secretary/ Head of BIMSTEC and SAARC Division at the Ministry of External Affairs, New Delhi. He has also served as Joint Secretary at Indian Council of World Affairs, a premier think tank of India.
He speaks Hindi, English and German languages
Ambassador Srivastava holds B. Tech. and M. Tech. degrees from Indian Institute of Technology (IIT) Kanpur.
He is married to Ms Monika Srivastava and they have one son.